Please downlοαd the form from the website to add your business in our site. Send back the form to us and a zip file with your site images.
Click Here...
Do you live in an area or village in Greece which we have not included in our site? Would you like to show the beauty of your area or village to the rest of the world? We are a Club of people from all over the world having one goal: to present Greece to the world. Become an editor and send your text and images of your village/town/island.
Click Here...
| | |
| --- | --- |
| | IMAGE BOX |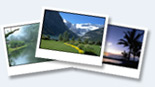 View travel gallery of beautiful Greece.
Click Here...
| | |
| --- | --- |
| | FREE NEWSLETTER |
Insert your e-mail here if you like to subscribe or to unsubscribe to our mailing list.

> VALLEY OF THE BUTTERFLIES

VALLEY OF THE BUTTERFLIES

The Valley of the Butterflies is a unique natural park, in which, every year from the middle of June to the end of September, thousand of colourful butterflies make their appearance. Some of those belong to a particularly rare species that can only be seen in very few places in the whole world. In the valley there are little lakes, shadowy paths across the forest, wooden bridges on various spots of the little river Pelekanos and a restaurant with a view to a waterfall and a sparkling spring. There are also some steps made of stone that lead to the monastery of Virgin Mary Kalopetra, located right above the lush green valley.

The Valley of the Butterflies is located 20 kilometers away from the airport, near the village of Kalamonas and is included among the most famous sight of Rhodes, undoubtedly worth a visit. Thousands of visitors crowd in every year in order to admire the butterflies and take a walk in the lush green landscape of the valley. However the number of the butterflies is constantly decreasing unfortunately, due to the fact that some visitors whistle and clap in order to watch the butterflies fly away. What they don't know though is that whistles and claps produce sound waves similar to those caused by bats. The butterflies then get a sense of threat and are running scared. In that way lots of them die, either because they're shocked, or out of exhaustion in their effort to escape, or even because they bump violently on trees and rocks. Thus, be considerate during your visit and try not to bother them.