Please downlοαd the form from the website to add your business in our site. Send back the form to us and a zip file with your site images.
Click Here...
Do you live in an area or village in Greece which we have not included in our site? Would you like to show the beauty of your area or village to the rest of the world? We are a Club of people from all over the world having one goal: to present Greece to the world. Become an editor and send your text and images of your village/town/island.
Click Here...
| | |
| --- | --- |
| | IMAGE BOX |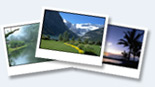 View travel gallery of beautiful Greece.
Click Here...
| | |
| --- | --- |
| | FREE NEWSLETTER |
Insert your e-mail here if you like to subscribe or to unsubscribe to our mailing list.

> IXIA

IXIA - Rodos Island

GENERAL INFORMATION

The picturesque and cosmopolitan resort of Ixia is located in the west coast of Rhodes, between the cities of Rhodes and Ialisos. It has been characterized as one of the most beautiful places of the island and is only 6 kilometers away from the City of Rhodes and 7 kilometers away from the airport. It offers a wonderful beach with crystal clear waters and an extended beach of sand, that combines ideally the lush green of the surrounding hills with the deep blue of the sea. The bay of Ixia, due to its geographical position in the southwestern Rhodes, where winds are blowing constantly, is ideal for wind surfing. From time to time there are even some wind surfing contests, if you are interested in taking part. If not, there are facilities for lots of other sea sports to chose from.

During the last few years the area is displaying a significant touristic development both in facilities and establishments. It offer different kind of places to stay, varying from luxurious hotels built along the coastline to smaller but comfortable rooms to let. There is also a wide range of restaurants so that you have the ability to chose those that suit you best. The night life in Ixia is equally exciting, offering the visitor lots of different options in bars and night clubs.