Please downlοαd the form from the website to add your business in our site. Send back the form to us and a zip file with your site images.
Click Here...
Do you live in an area or village in Greece which we have not included in our site? Would you like to show the beauty of your area or village to the rest of the world? We are a Club of people from all over the world having one goal: to present Greece to the world. Become an editor and send your text and images of your village/town/island.
Click Here...
| | |
| --- | --- |
| | IMAGE BOX |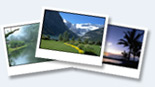 View travel gallery of beautiful Greece.
Click Here...
| | |
| --- | --- |
| | FREE NEWSLETTER |
Insert your e-mail here if you like to subscribe or to unsubscribe to our mailing list.

> KALITHIES

KALITHIES - Rodos Island

GENERAL INFORMATION

Kalithies is a coastal village, which is being inhabited since antiquity and a well known family vacation resort. During the period of the great flourish of Rhodes, Kalithies used to be one of the biggest and most important shipyards of the whole Mediterranean Sea. It is located 19 kilometres south of the capital of the island, also within a small distance from the famous summer resort of Faliraki.

In the area you will be able to visit the imposing acropolis of Sarantapihos and Erimokastro. Erimokastro is a big wall built in a high spot, from which no building have been preserved and that's where its name comes from ("erimokastro" means "deserted castle" in Greek). There is yet another smaller ancient wall in the nearby village of Miniko, but not much has been saved from this one either. Some Neolithic findings have been discovered in the cave of Kalamonia, which is well worth a visit as well.

In the surrounding area of Kalithies there are lots of churches and monasteries. The most interesting of those is probably the monastery of Agia Elelousa and the church of Agios Georgios with their exquisite frescos. In the monastery of Agia Eleousa in particular, the frescos are dating back to the 17th century.